Brescia is a modern, progressive city, whose long history has left its mark, making it an extraordinarily rich in artistic treasures. Interspersed between the modern buildings, visitors can admire ancient palaces, fountains, magnificent churches, silent cloisters, and colourful alleyways that meander between the beautiful and architecturally impressive squares.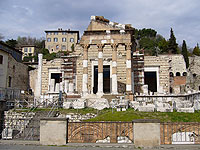 In fact, during the course of history, the squares have played a fundamental role, from the Forum in Roman times to the famous Piazze della Loggia and del Mercato which have formed the city centre since the days when it was part of the Venetian Republic.
Of particular interest are the Roman Forum, the Capitolin Theatre and Temple, the Duomo Nuovo (New Cathedral), the monastic complex of S. Salvatore, the churches of S. Faustino and S. Giovita, renowned for the frescoes by Tiepolo, and the Church of the Madonna del Carmine.