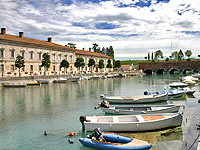 Peschiera
Peschiera
is one of most characteristic towns of lake Garda: it stands on the low shore of the lake where waters flow into the outflowing stream called Mincio and it is completely surrounded by canals.

The historic centre of Peschiera is delimited by walls which modified the natural routes of the river. The first settlements were during the Bronze Age (typical finds were located: arrow points, swords). During the Roman period, Peschiera became an important centre.
Peschiera is 25 kilometres far from Verona and it is easy to be reached: toll A4 Milan-Venice for people travelling by car, the Peschiera train station (Milan-Venice way) for people arriving by train, the Verona Villafranca airport for people travelling by plane.

From the port of Peschiera it is easy to reach the other towns of Lake Garda by boat. There is a 40 km long cycling lane starting from Peschiera del Garda which connects the Lake to Mantova and that coasts the river most of the time, in a nature where the Mincio Park extends itself, where Peschiera does not border.
Peschiera has most of the hotels and camping sites that have turned it into one of the main tourist destinations in Lake Garda but
Gardaland
and other parks are also the cause of a tourist crush.