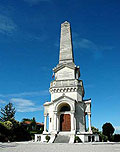 Custoza:
the town is situated in a wonderful rural hilly area, just a few kilometres far from Lake Garda and from the peaceful Mincio valley.
The countryside, with its beautiful hills cultivated with vineyards, has not yet been devastated by the horrible warehouses that infest the farms of northern Italy and this make one's stay at the well equipped agritourisms in the area a pleasant one.

From Custoza it is easy to reach other important touristic areas like Verona, Mantova, Valeggio, Lake Garda, the Mincio park and the other parks around Garda (Sigurtà, Gardaland, Caneva etc).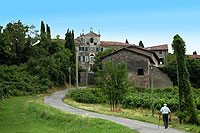 Most people know Cassza thanks to its excellent wineries and bacause of the production of the homonymous wine: bianco di Custoza.
The residential area of Custoza stands on the last hilly off-shoots of Lake Garda's morenic amphiteatre, near the Tione river, not far from the Po valley and from the road system of via Postumia.