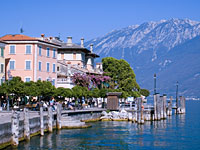 Gargnano
is a town of 3.016 inhabitants, located in the province of Brescia, in the higher point of Lake Garda. History's events have left very important marks, especially inside the many churches and small ones built there.
In recent times, Gargnano owes a lot to the Feltrinelli family who helped the town out by building a hospital, nursery schools and other structures it needed.

The two Feltrinelli private villas gave hospitality to Mussolini and the supporters of the Republic of Salò. Vistors travelling along the gardesana towards Limone can find lemon-houses starting from Gargnano.
Lemon-houses stand out amile since they are built with high pillars, in a row, which are contained on three sides by white rock walls.
Lemon-house are hothouses for the lemon growing and it used what people lived on and part of the town's economy. Lemon-house were built in order to allow growing citrus fruits in cold climates.