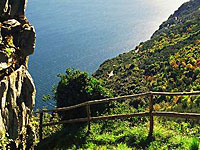 Tiganle
is a small town in the higher point of Lake Garda: Alpine views prevail as in Tremosine.

It is a place for those who love peaceful holidays, staying in an apartment or in a little hotel or in an agritoursm situated in an unpolluted mountain nature.
The real touristic boom was registered starting from the sixties and seventies when the town began valorizing its resources and recognized economical opportunities related to tourism.

Wonderful landscapes can be from Tignale and even in the summer climate is very comfortable and breezy.
Tignale is surely the best place for those who love long walks in the mountains, bike excursions and for those who want to keep away from Lake Garda's crowded places during the summer.