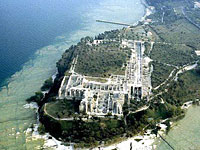 Sirmione
stands on a peninsula with a minimum broadness of 120 mt which stretches out for about 4 km in Lake Garda from the southern shore.
In ancient times Sirmione - "Sirmio" for the Romans – used to be a "road station" at the basis of the peninsula and a renowned place for holidays and thermal bath for nobles.

Sirmione still holds all the ancient ruins of the famous villa which is said to belong to the famous Veronese poet Caio Valerio Catullo who lived in Sirmione during the first century B.C., especially the part which stands on the peninsula was also inhabited in late ages (Byzantines and Longobards built fortifications), it received municipal orders in the XII century, and from the XIII century it was ruled by the Della Scala family of Verona.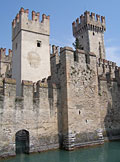 Since 1405, Sirmione, as well as the other Lake towns of the area of Brescia, became part of the Republic of Venice.
Sirmione is nowadays an important touristic-climatic and thermal bath centre: the first information on the underwater Boiola source (69 °C), collected in 1889, date back to 1546; the first establishment dates back to 1898.
In the recent years there has been an significant development due to thermal cures.