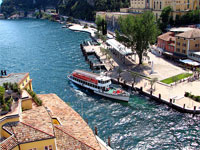 Riva del Garda
is a little town in the northern point of Lake Garda in the area which is administrated by Trentino Alto Adige. In the past, Rive used to be a Roman settlement and in the Dark Ages it also became a trade centre.
The historical nucleus of Riva del Garda, between the Lake and via Dante Alighieri, has its main space in the Tre Novembre square which extends itself towards the little port, with arcades dating back to the XII century, where the Pretorio (in Verona) and Municipale (in Venice) buildings rise, as well as the Apponale tower, built during in the XIII-XIV century.

Not very far, surrounded by the waters, is the turreted fortress, that dates back the XII century and subsequently expanded, which nowadays hosts the civic museum keeping lake dwelling finds of Ledro Lake and other pieces like naturalistic and ethnological collections. In the north, the baroque church of the Inviolata stands with its octagonal inside and dome vault. Among the most famous guest there were Nietzsche, who stayed in the Hotel du Lac for a few weeks, the Hartungen family, the Mann brothers, the Brod's, Kafka, Lawrence.

Nowadays local economy is based on climate tourism and on the congressional activity, which has been a tradition. Besides tourism, agricultural product trading (oil and wine) and industry (food, paper-mils and wood factories) are also important sectors. In addition, the little town's main destinations beside itself are: Lake Tenno (6km north), Lake Ledro (5km west), with its paleoetnographic museum and the Varone waterfalls (3km north) of an important geological and landscape interest.