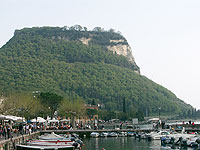 Wie Just like the other towns on the lake, even
Garda
boasts pre-historical origins with its usual finds that date back to the Bronze Age. There is evidence of a very ancient past such as the rupestrian warriors weapons, Luppia which represent warriors, weapons, horse-soldiers, labyrinths, animals. There is still some evidence of the Roman Age both , in the layout of the city and in some tombstones.
The name "Garda" probably comes from the German word Warte, which means guard, "fortress", and is referred to the "uncatchable" stronghold made up by the Rocca's. Historians believe that during the first centuries of the Middle Ages this fortress had become so important from a strategical point o view that gave the entire lake its name: in fact it was no longer called by its Latin name Benàcus and changed into Garda.

Because of its position , the territory of Garda, never enjoyed a complete period of peace, not even during the rule of Serenissima. In 1797, Napoleon, put an end to the Venetian rule.
After that, the territory of Garda was ruled by the Austricians, for a short period, but after a series of events one after another, it became part of the Kingdom Of Italy. During this century, the quality of life did not improve that much and after World War II ,in a few years, Garda changed from a town made up by fisherman into a modern tourist one, gaining a reliable wealth and attracting thousands of visitors on its shores, mostly foreigners, every year. Nowadays the City of Garda is one of the most booming and visited touristic places in Lake Garda.