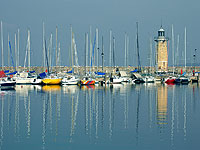 Desenzano del Garda
is the biggest town of the Lake Garda that has about 26.000 and is located in the south-west part of the Lake.
Desenzano is in the centre of a gulf that is bounded on the west by the high ground of Mount Corno and on the east by the peninsula of Sirmione.
Desenzano del Garda, as well as
Peschiera
has many lines of communication: motorway A4 and the Milan- Venice railway. Sport lovers can do windsurf, mountain-biking and sailing.

There are also many places for teenagers to meet at like discos and piano bars. It is believed that the name "Desenzano" came from the Latin name Decentius, the owner of the holding and of the IV century villa whose excavation can nowadays be visited.
As all settlements in Garda, even Desenzano boasts origins starting from the Bronze age.

The "Pieve del Desenzano" is one of the first middle aged christian churches whose evidence have been kept in the area of Lake Garda.Rivoltella Sul Garda is a big hamlet which is part of the city of Desenzano del Garda, located 87 meters above the level of the sea.
The battle of
San Martino
was fought in the territory of Rivoltella on June 24th 1859.