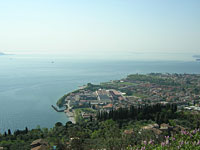 Toscolano Maderno
settles on a vast headland located in between the romantic port of Toscolano and the suggestive gulf of Maderno.

The area has a particular microclimate which can be compared to the Mediaterranean one.
The town of Toscolano-Maderno is located on Lake Garda's shore of Brescia which is 40 km far from the main city of Brescia.
Toscolano e Maderno are two completely different centres: Maderno has a touristic vocation. Toscolano has an industrial origin.

The two centres are perfectly divided by the Toscolano torrent. It seems that Toscolano has Etruscan origins while Maderno has Roman origins.
In 1928, both centres were reunited in a single town. After the war, hotel constructions reached its maximum development and it is currently the main economic activity existing.
The Toscolano-Maderno area particularly suggested for those who love long walks and mountain biking paths.