Lake Ledro is one of the most beautiful and clean places in the Trentino area. Located at a height of 650 mt, Lake Ledro is characterized by its crystal clear turquoise and changing waters. The atmosphere, set in the woods, is quite and relaxing, ideal for a regenerative holiday. The area has many hotels camping sites and offers excellent services in order to practise many sports.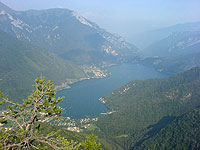 The Valley and Lake Ledro - Trentino Alto Adige
Lago di Ledro: a small lake in the south Trentino-Alto Adige; it is situated in the valley which is named the same way at a 650 mt altitude.
The local "museo delle Palafitte" (Pile museum) holds an interesting collection of objects belonging to different pre-historical ages such as daggers, bronze diadems and other important archaeological objects. The Valle di Ledro cuisine is typically of Trento, although there are some typical delicious dishes.

There are also certain bohemian influences. A typical plate is mash potatoes.
Valle di Ledro, situated in an elevated position between Lake Garda and Lake Idro, has a different kinds of morphology and it is an important area from a naturalistic and excursion point of view.

Its many paths allow one to go for an adventure along different level and difficulty trekking paths, depending on one's time and training.
The maps which are given out by the tourist information office will give you all the information you need to choose a path which is suitable for you.