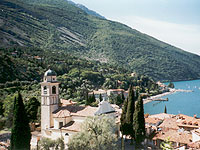 Das
Nago Torbole's
territory extends itself from 65 mt on the sea level up to 2.078 mt on the monte Altissimo di Nago on the Mount Baldo chain.

Torbole is located in thenorth-eastern angle of Lake Garda, in a territory which encompasses the Sarca river's mouth (a tributary of Lake Garda), level round hinterland up to Arco and mountainous on the east where the Mount Baldo chain begins.
In the post-war period – as for all the other town of Lake Garda – a touristic development took place which in Torbole's case is particularly due to sailing. During the first years of the eighties, windsurf made Torbole popular at a worldwide level thanks to the organization of the world championship. In the nineties, when mountain bikes became popular, a world championship was organized, in 1991, on Mount Brione.

The constant presence of wind allows practicing windsurf and sailing. The shores of the Conca d'oro (the golden basin), of the Parco della colonia pavese (Park of the Pavian colony) and of Villa Cian are vast and clean; there are many walls which are perfect for climbing, and paths for mountain bikes.
A holiday for all seasons and likings, for those who love peace and quite and for those who are looking for fun and adventure.