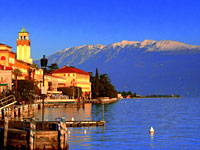 Gardone Riviera:
a little town which is part of the western Lombardy, in the province of
Brescia
. It is located on the western shore of Lake Garda, a north-east from the main city. It started to become a place for tourism at the end of the VII century when many German tourists convinced themselves about the fact that it offered benefits to one's health.
Luigi Wimmer, a distinguished man of Austrian origins who spent a long period of time in Gardone curing himself , fell in love with it and decided to build the first big hotel.

After becoming mayor of Gardone in 1881, he sponsored its image all over Europe: soon Gardone became a tourist spot which was frequently visited by important people but is also turned into Lake Garda's pearl.
Not far from Gardone, at Gardone di Sopra, is the Vittoriale degli Italiani, Gabriele D'Annunzio's favourite place and home since 1921 until his death.

Behind Gardone, the natural protection of the hill allows a particular microclimate, mild in every season of the year.
This has allowed the territory of Gardone Riviera to become a real "botany garden" in which Lake Garda's typical vegetation alternates itself with the mid-European, the Mediterranean and sub-tropical ones. The little town preserves the botany garden of Hruska and Villa Alba, with the nice municipal park.