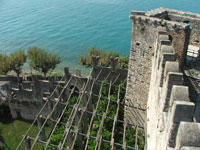 Torri del Benaco
is a characteristic town of Lake Garda's Veronese shore. The ancient suburb of Torri del Benaco is situated in between walls and medieval towers which are perfectly conserved.
On the little port of Torri del Benaco, stand the Castello (castle) and Gardesana's council building. Nowadays, the castle of Torri del Benaco has an interesting ethnographic museum.
Even the hamlet of Pai is very interesting, situated along the road which leads to Malcesine and fortification ruins which were knocked down by Barbarossa are still kept.

The other suburb of Albisano is located above Torri del Benaco, at 310 metres of height, in a position where you can see a very beautiful panorama – most of Lake Garda.

Torri del Benaco has always been an area of vineyards and olive trees and together with fishing used to represent the only activity to live on not only for the inhabitants of Torri but also for those living around the lake.
Today tourism holds an important position in the economy of Torri.
There are more and more tourists who decide to spend their holidays in Torri because they are attracted by excellent hotels and by the place's beauty.