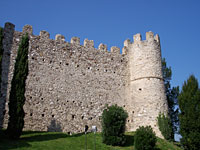 The history of
Moniga del Garda
is similar to the one of the others towns in the Riviera of Brescia, a Roman domination, barbarian invasions, the dominations of the Republic of Venice, etc.

The presence of the beautiful medieval castle which came up under the ruins of a recent Roman castle is important to know about. Moniga's town centre is very particular and suggestive: a group of little streets and alleys revealing a typical medieval structure. Moniga is one of the main places under the gastronomical point of view of the Lake Garda area. Moniga del Garda is in the centre of the Valtenesi, famous for the excellent cuisine and for claret red wine.

In Moniga there are many important restaurants and the tourist demand is very different.
Besides the traditional camping sites, Moniga del Garda offers the possibility to stay in different residences and hotels of all categories: excellent hotels, excellent camp sites, tourist villages, and agritourisms which are glad to welcome those who want to this wonderful area in Lake Garda.