Limone, Salò and Gardone
are three important towns located on Lake Garda's shore of Brescia..
Limone del Garda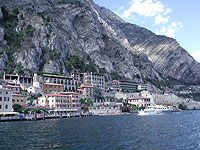 Most of the town is situated on the mountain's rapid slopes in between which there are innumerable hotels, residences and private villas. There are many structures for tourists for the town's size. Limone's socio-economical development in the last decades is amazing: from a very poor isolated village, it was able to turn itself into one of the most visited touristic destinations around Lake Garda.
Salò: "the pearl of Lake Garda"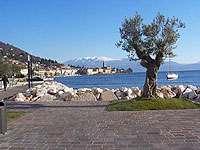 We do not know if Salò can still be considered the pearl of Lake Garda. Its charm seems to have been a bit forgotten. Anyways, in Salò there are many bars and decennial tradition grand hotels. Once you are on Lake Garda you will be able to visit this town even by taking a boat trip which will sail the calm waters of the narrow gulf that characterizes Salò.
Gardone: traditional tourism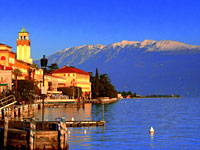 Gardone
is a small town which is also located on the lake's western shore right near Salò. Gardone is one of Garda's oldest touristic places. In fact, since the XIX century, it has been one of the most chosen placet by rich English and German families who have found the right accommodation in Gardone's many hotels. It is also famous for the Vittoriale degli Italiani. There is no doubt that Gardone is one of the most interesting places to visit around Lake Garda.