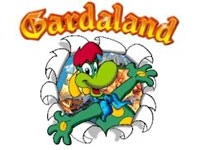 Gardaland park is Italy's number one amusement park because of its number of visitors and for its many attractions. Gardaland, located in Castelnuovo, was founded back in 1975 by local investors. Since 1975, Gardaland park has got bigger by adding new attractions every year. The unexpected success which has involved "amusement parks" in the last decades (first of all in the United States and then in Italy and in Europe), has made Gardaland become bigger by improving the attractions it offers, their spectacle and their constant modernization with the development of new thematic zones.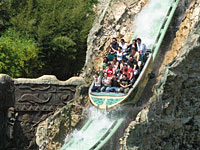 The choice for a constant modernization has allowed Gardaland to welcome a more and more growing number of visitors in its park. At the end of the nineties,
Gardaland
was enlarged in order to face national and European competiton (especially with Eurodisney and Fantasylandia). The park's closeness to Lake Garda has allowed building a dock for boats sailing along the lake.