Bardolino, Garda and Lazise
are the most popular and visited towns of lake Garda's eastern shore. This a beautiful zone because of its landscape and it is this part of the territory where most of Lake Garda's tourism gathers.
Bardolino, tourism and gourmet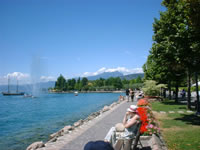 Bardolino
is the biggest town among the three and is popular not only because of its beauty but also for its historical centre, its renowned Bardolino wine which is made in the hinterland of its hills.
There are many touristic structures in Bardolino such as: hotels, camping sites (even some cheap one belonging to the town) and residences.
In fact, you can ride along the famous wine road and visit its numerous historic wineries that make Bardolino wine by bike.
Garda, a beauty spot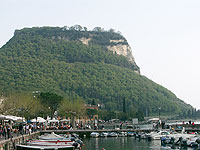 There is no doubt that
Garda
is one of Lake Garda's most characteristic towns. It is located north of Bardolino in the point in which the lake begins to become shorter in the arm that develops towards north.
The bay of Garda is very particular and characterized by the typical "Rocca" in the back of it. Another famous place on Lake Garda is cape san Vigilio, where you can find a splendid restaurant on its extremity.
Lazise, holidays and amusement parks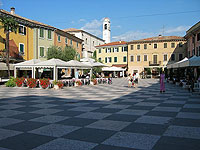 Lazise
is a small town which is also situated on the eastern shore of the lake and located south of
Peschiera del Garda
. Lazise is characterized by a nice historical centre.
Every year Lazise is a destination for a great number of tourists staying in the numerous camping sites, hotels, agritourisms and bed & breakfasts located on the town's territory and in the near suburbs. Lazise is very closet to the amusement parks such a Gardaland, Caneva and Movie Studios. For this reason there are many people who decide to spend their holiday in Lazise.