Sirmione Desenzano and Peschiera del Garda
are three of the most appreciated placet in Lake Garda whose economy is not just due to the abundant tourisistic flow.
Sirmione: the thermal baths of Lake Garda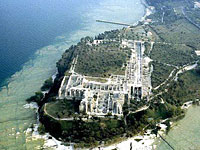 The smallest town of the three is
Sirmione
.
It is renowned all over the world for the beauty of its historical centre and for the splendid panorama which can be seen from the peninsula.
Sirmione
's most important attractive are the Roman ruins of poet Catullo's villa and the famous thermal baths.
A thermal source which flows into the middle of the lake gives sulphurous waters that are used in the town's thermal baths. Sirmione does not only extend itself over the famous peninsula but also over the hinterland where numerous camping sites can be found. Sirmione also has a modern and equipped touristic port for pleasure boating.
Desenzano: the capital of Lake Garda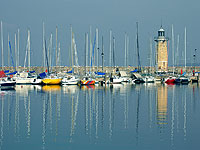 Desenzano
is the biggest and most populated town around Lake Garda.
Although it does not only live on tourism, there are lots of accommodating facilities: there are many hotels, camping sites and residences.
Besides this, Desenzano is place that is appreciated above all by the youngsters of
Brescia
(and not only) because of its night life: there are many discos and
spots
for young ones.
Peschiera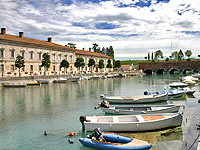 Peschiera
's main characteristic is that there are a maze of canals passing through it and which make up the Mincio river, Lake Garda's estuary.
The towns characteristic centre stands among these numerous canals, surrounded by the famous defensive walls.
The flat land has numerous camping sites which are especially appreciated and frequented by foreign customers. But there are also many hotels and agritourisms.